Last Updated on by San San
Eating Chicken & Waffles In The Simplest Ways
The combination of chicken and waffles sounds like a great way to enjoy a warm breakfast. I mean, it's the accurate combination for an uplifting meal to fill your tummy. The thought of a crispy, crunchy fried chicken seasoned with all sorts of spices and sweet waffles topped with maple syrup, for instance, getting into your mouth is completely mind-blowing. What else could you ask for, right?
Everyone has their way of enjoying themselves and in this case, eating chicken and waffles find a spot on everyone's daily top ten meals for breakfast. And as they say, at times, the simple things in life are the ones that make us happy. There are various ways people eat their chicken and waffle bites by spicing them a little bit with their very own recipes.
If one hasn't had the opportunity to eat this delicious meal, it's probably high time they tried it. This delicious dish will have them fall in love with it. Nobody should miss out on the chance to give it a try!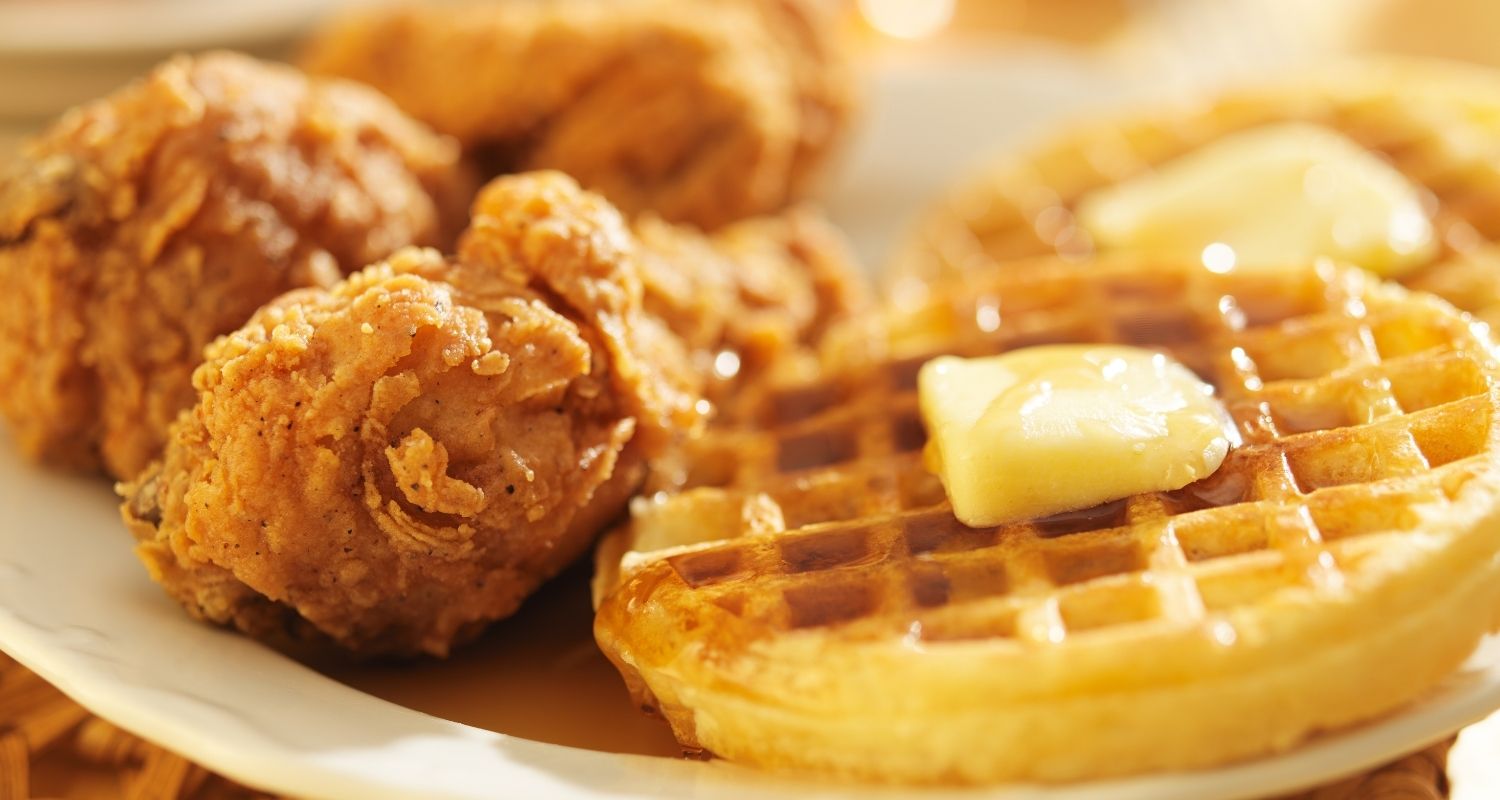 How To Eat Tasty Chicken And Waffles With Syrup
When you think of syrup together with chicken and waffles, go for maple, honey or spicy syrup. Maple syrup does not only have a distinctive taste but also has numerous health benefits, especially when consumed with a hearty meal in the morning. A spicy one will enhance that deep flavour on your chicken – it just adds character and more tastiness to it.
If you do not have any syrup to use, why not go for the honey instead? It has a sweet taste, too, and goes well with chicken and waffles. With a little sprinkle of toasted sesame seeds on the chicken, you're about to have the time of your life!
And if you have all of them, you can use them at the same time. However, this does not apply to all. Some may have a negative reaction to that mix – not everyone loves a little spice here and there, after all.
With your syrup ready, soak your waffles and bite them together with your crunch chicken.
If not, pour the syrup onto your chicken and take a bite together with the waffles. I, however, find this too sweet for my chicken for my liking.
Better still, drench everything – chicken and waffles with the syrup and enjoy every single bite of it. 
It's all about experimentation, somewhat. If you find a waffle a snack that needs not be combined with a fatty chicken, eat the two separately. Try whichever way that complements your taste buds until you get the perfect match for your chicken and waffles with syrup.
What To Serve With Easy Chicken And Waffles Dish?
Your mouthwatering chicken and waffles do not have to be bland – enjoy it with some of these delectable delicacies. There are so many tasty fruits to enjoy with them. What would it be? (Grapes, strawberries, bananas). Indeed, the choices are so many, just like with your auto insurance cover.
I would go for the strawberries. If you aren't a fan of strawberries, then you should be. Not only are they tender and flavorful, but they are a real superfood, too, that is, they are loaded with antioxidants, e.g., vitamin C. Their advantages are unlimited. They lessen your cholesterol levels. They boost your immune system by fighting numerous diseases. They also assist in the elasticity of your skin, thus holding off wrinkles. Besides, they lower inflammation, enhance healthy digestion and help in weight control.
Dice your strawberries and add them to your chicken and waffles plate. If you wish, add the likes of honey and syrup for enhancement of taste.
It's not everyone's wish to eat the strawberries whole. Then feel free to blend them in a mixer with some water. It would be like a new fresh syrup that you can top your chicken and waffles.
By the way, who said you also couldn't use strawberry jam? Not only that, crispy chicken together with waffle biscuit topped with coleslaw and honey mustard is just yummy. It's incredibly exceptional and creative instead of settling for the usual servings.
What To Drink With Chicken And Waffles?
Chicken and waffles are absolutely a perfect dish for breakfast served with either milk or a cocktail. Not only breakfast but also lunch and even brunch. The drinks come in very handy to complement the taste of your meal. 
For a beverage like milk, most of us are tied to a particular time of the day, and that is morning. Such a tradition comes from centuries of cultural practice; however, others are just forced on us, and eventually, we flow with the rhythm. 
Yes, this doesn't mean you are mandated to drink milk with your chicken and waffles in the morning. Any time would practically do. Milk, one of the dairy products, is highly rich in protein. It is an all-around drink that you can practically substitute for a cocktail, in this particular case with this dish.
Cocktails are the convenient match for a simple crispy, crunchy, fried chicken with waffles. They are simple drinks that are soothing to drink. 
Take the instance of a soda. The list of its flavours is almost endless to choose from them. A glass of scotch would also do. With these drinks, you are destined to feel good.
How you eat your chicken and waffles depends on your liking. If you want it plain, with syrup, another dish combination, or drink, it's all upon you. You tend to get almost the same kind of sweetness anyway.
To Sum Up
Eating chicken and waffles may be a weird combination for many, just like me, however, it's gaining popularity over time. I can predict in the future that it will be a top-selling delicacy in most food restaurants. 
Who can dare resist the crispiness of a seasoned fried chicken together with waffles? They are an amazing pair together with the likes of syrup, strawberries, cocktails to quench your heart's and appetite's desires.
When you have the perfect chicken, to be precise, the soft one, nothing, absolutely nothing would deter you from enjoying every single bite of it. What about the waffle? The one with a convenient thickness is satisfying. Come to think of it; it's almost like normal bread, only that it has box-like depressions. And who doesn't love bread? 
If you haven't got your hands on it already, you had better – because the feeling would probably make you long for more.